MEDICAL INTENSIVE CARE UNIT 2
The successful internist must achieve competence in the essential skills of stabilizing and intervening in the care of critically ill patients until a medical intensive care specialist can take over that care. In current society, the general internist is typically expected to be qualified at the end of three years of residency to successfully manage a critically ill patient for at least 24 hours until intensive care specialists can come in and take over that care. Because of this important responsibility for the general internal medicine specialist, the 3-year curriculum has 5 rotations of medical intensive care unit all of which are expected to continually allow/challenge the resident to gain progressively higher levels of autonomy in managing acutely ill patients.
Because the rotation is a team based curriculum (including multidisciplinary team rounding) the goals for PGY 1, PGY 2, PGY 3 are all integrated in this set of goals and objectives. It is expected that the residents will review the goals and objectives and discuss their individual goals each rotation with the attending critical care specialist. The successful resident on this rotation will show a proactive approach with a keen sense of collaboration with interdisciplinary teams as well as with the attendings. The completion of each rotation and subsequent intensive care month should lead to an increasing amount of knowledge, skill and confidence and humility in managing critically ill patients with such tools as mechanical ventilation, intensive care pharmacological, IV fluid resuscitation, complex communication skills consistent with establishing clear goals for the patient's care. This rotation will challenge every resident to be at their best in professionalism during stressful and emotionally charged environments.
On this rotation, the PGY 1 Returning Resident is expected to demonstrate more competence in data gathering, interpreting of data, and managing patients with some assistance from the PGY 2/PGY 3 and the attending.
Schedule
Goals & Objectives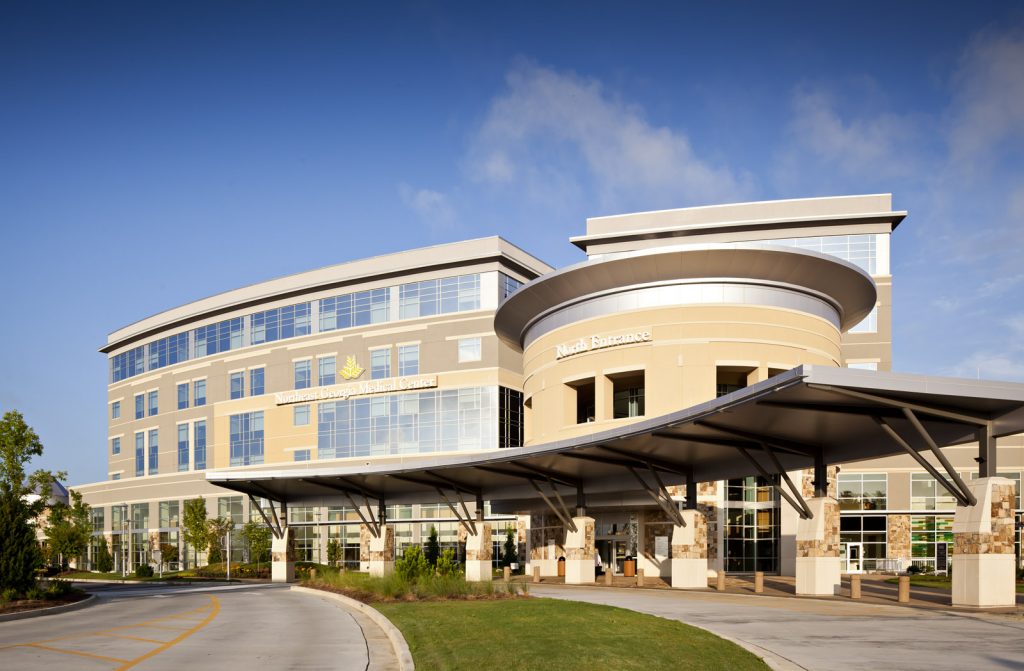 Northeast Georgia Medical Center – Gainesville
Northeast Georgia Medical Center (NGMC)
is a 557-bed acute care hospital in Gainesville, Georgia, and serves as the major participating site for the residency program. NGMC has a long history of providing high quality care and has been recognized nationally by Truven, HealthGrades, CareChex and others as a top performing hospital, as well as recognition from the Atlanta Journal/Constitution as a top employer. It serves as a regional tertiary referral center with level II trauma designation, serving over 1,400 trauma patients per year. NGMC serves over 18 counties in a population area of more than 1.5 million, and provides care to over 580,000 patients per year.
Medical Library available to residents and faculty with study areas, computer workspace and resources available 24/7.
Resident work areas with computer access work stations 24/7 available in the North Patient Tower and the Trauma/Acute Care Surgery Clinic.
Simulation laboratory available 24/7 in GME area.
Northeast Georgia Medical Center – Braselton General Surgery
Northeast Georgia Medical Center Braselton
 is a 100-bed hospital located approximately 16 miles from the NGMC Gainesville campus. NGMC Braselton opened in 2015. NGMC General Surgery residents will be exposed to the full scope of general surgery from diagnosis and preoperative evaluation to surgical intervention and follow up in the outpatient clinics. There is opportunity for exposure to the full range of general surgery procedures:
Emergency room
Outpatient surgery clinics
Operating room
Endoscopy
NGMC Braselton was built with the latest technology to enable faculty and residents to interact via video conference with colleagues at NGMC Gainesville as needed.
Take a Tour of NGMC Braselton: