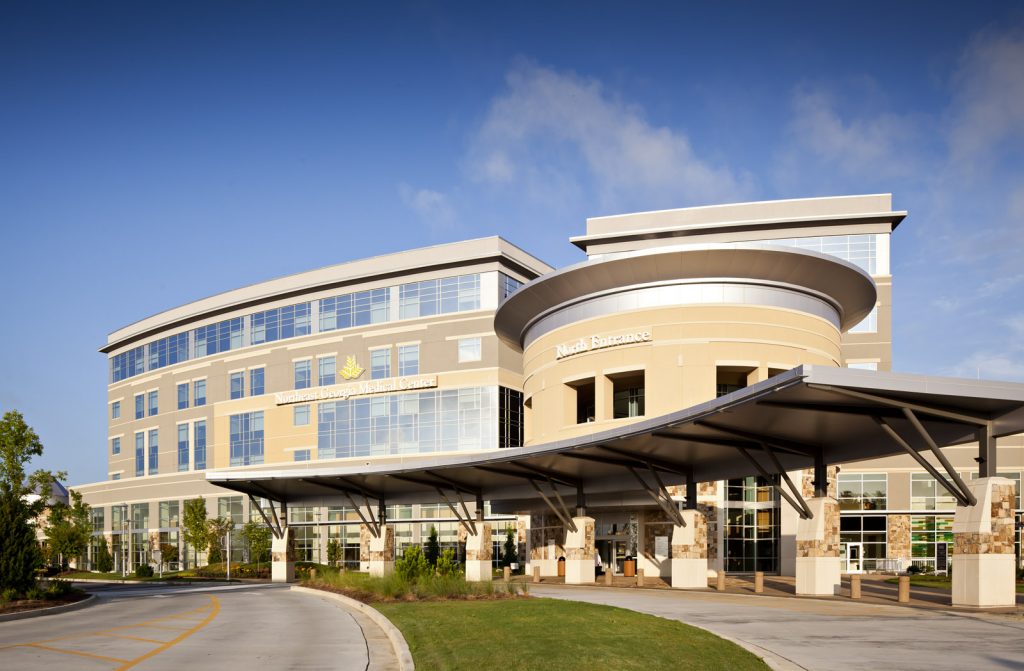 Northeast Georgia Medical Center (NGMC)
is a 557-bed acute care hospital in Gainesville, Georgia, and serves as the major participating site for the residency program. NGMC has a long history of providing high quality care and has been recognized nationally by Truven, HealthGrades, CareChex and others as a top performing hospital, as well as recognition from the Atlanta Journal/Constitution as a top employer. It serves as a regional tertiary referral center with level II trauma designation, serving over 1,400 trauma patients per year. NGMC serves over 18 counties in a population area of more than 1.5 million, and provides care to over 580,000 patients per year.
Medical Library available to residents and faculty with study areas, computer workspace and resources available 24/7.
Resident work areas with computer access work stations 24/7 available in the North Patient Tower and the Trauma/Acute Care Surgery Clinic.
Simulation laboratory available 24/7 in GME area.
Northeast Georgia Medical Center Braselton
 is a 100-bed hospital located approximately 16 miles from the NGMC Gainesville campus. NGMC Braselton opened in 2015. NGMC General Surgery residents will be exposed to the full scope of general surgery from diagnosis and preoperative evaluation to surgical intervention and follow up in the outpatient clinics. There is opportunity for exposure to the full range of general surgery procedures:
Emergency room
Outpatient surgery clinics
Operating room
Endoscopy
NGMC Braselton was built with the latest technology to enable faculty and residents to interact via video conference with colleagues at NGMC Gainesville as needed.
Take a Tour of NGMC Braselton:
Grady Memorial Hospital is a regional American Burn Association verified burn center. Located in Atlanta, Grady is licensed for 953 beds and has an annual inpatient volume of nearly 30,000 admissions. Residents will complete a burn rotation at the Grady Burn Center, with Emory medical faculty supervising NGMC residents.
Site Director: Dr. Ravi Rajani
In 2017, U.S. News & World Report ranked
Emory University Hospital
the No. 1 hospital in both metro Atlanta and Georgia for the sixth year in a row. Staffed exclusively by Emory University School of Medicine faculty, Emory University Hospital is one of the nation's leading hospitals in cardiology and heart surgery, cancer, neurology and solid organ transplant. Emory University Hospital has 733 beds, including 93 ICU beds and a Serious Communicable Disease Unit where the first Ebola patients in the United States were treated. Emory University Hospital is continuously expanding with the recent addition of a new 450,000 square-foot Hospital Tower on Clifton Campus. This has allowed for expansion of services and expert care, while creating an integrated, welcoming and spacious environment for patients and their families. Emory University Hospital boasts one of the best solid organ transplant centers in the nation. Our renowned surgeons have performed more than 8,900 transplants, with Emory Transplant Center ranking among the top 15 centers in the nation by adult volume. Northeast Georgia General Surgery residents will complete a transplant rotation at Emory University Hospital with Emory University School of Medicine transplant faculty supervising the residents.
Site Director:
Jahnavi Srinivasan, MD
Founded by the Sisters of Mercy in 1880, Emory Saint Joseph's Hospital is Atlanta's longest-serving hospital. Today, the 410-bed, acute-care facility is recognized as one of the top specialty-referral hospitals in the Southeast. Emory Saint Joseph's is a leader among all Georgia hospitals and is part of the Emory Healthcare system.
Emory Saint Joseph's Hospital provides training to physicians from around the world in robotic surgery for valve repair and is the primary location for cardiac rehabilitation. Other services include cancer, neurological, gastrointestinal, vascular, respiratory and orthopaedic care.
Community services include free health screenings and in-kind donations to local organizations supporting the homeless and indigent.
Site Director: David Kooby, MD