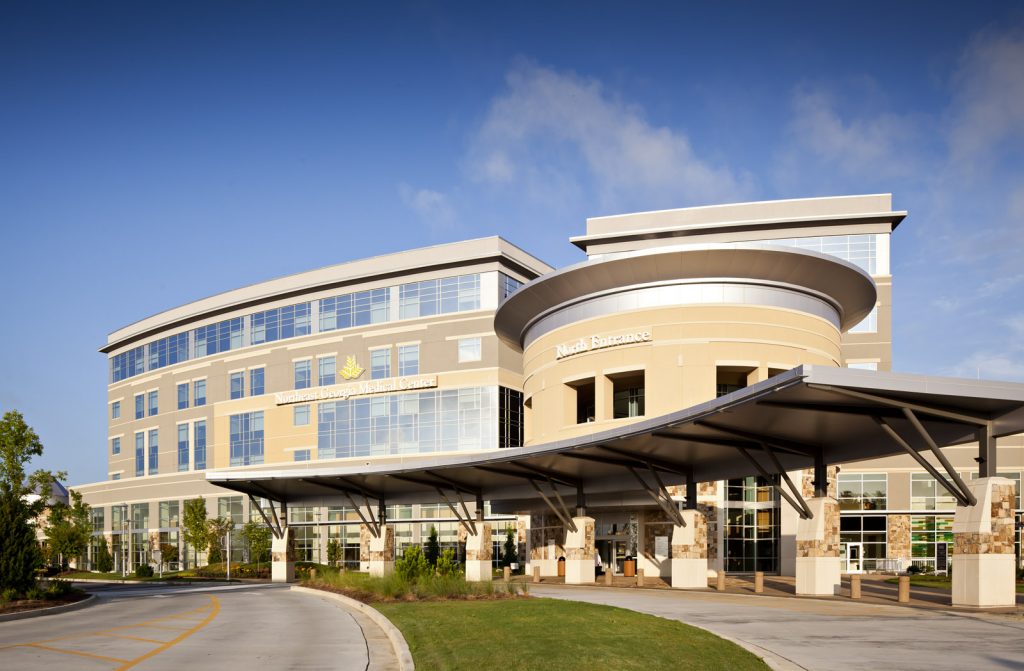 Northeast Georgia Medical Center (NGMC) is a 557-bed acute care hospital in Gainesville, Georgia, and serves as the major participating site for the residency program. NGMC serves as a regional tertiary referral center with level II trauma designation, serving over 1,400 trauma patients per year.
Since 1951, Northeast Georgia Medical Center (NGMC) has been on a mission of improving the health of our community in all we do. With hospitals located in Gainesville, Braselton, Winder and Dahlonega, the four NGMC campuses have a total of more than 750 beds and more than 1,200 medical staff members representing more than 60 specialties. NGMC is part of Northeast Georgia Health System, a non-profit that cares for more than one million people across more than 19 counties.
Medical Library available to residents and faculty with study areas, computer workspace and resources available 24/7.
Resident work areas with computer access work stations 24/7 available in the North Patient Tower and the Trauma/Acute Care Surgery Clinic.
Simulation laboratory available 24/7 in GME area.
Northeast Georgia Medical Center (NGMC) Braselton
is a 200-bed hospital located approximately 30 minutes from NGMC's Gainesville campus and an hour from Atlanta. Internal medicine residents will gain experience working in a variety of areas throughout NGMC Braselton, including:
Cardiovascular
Orthopedic
Neurosciences
Oncology
Emergency services
NGMC Braselton's medical intensive care unit (MICU) is the home of internal medicine residents during their final year of training. Residents in the MICU will learn procedural skills and ventilator management as they help care for the most vulnerable patients. An outpatient internal medicine practice is conveniently located on the Braselton campus inside Medical Plaza 1. Medical Plaza 1 is also home to:
Urgent care center
Imaging center
Endoscopy suite
Outpatient lab
Retail pharmacy
Multi-specialty physician offices
NGMC was built with the latest technology to enable faculty and residents to interact via video conference with colleagues at NGMC Gainesville as needed.
Take a Tour of NGMC Braselton:
Arthritis Center of North Georgia
is a rheumatology practice of dedicated, experienced physicians who believe in working with patients to maintain and improve their health. Arthritis Center of North Georgia's mission is to provide personalized, high-quality medical care to each and every one of its patients. Each physician is certified by the American Board of Internal Medicine in both internal medicine and rheumatology and is a member of the American College of Rheumatology. Board-certified physician assistants always work closely with their attending physician for each patient in order to provide informed, consistent care at all times.
Established in 1976,
Atlanta Gastroenterology Associates
(AGA) is one of the largest gastroenterology practices in the country dedicated to the evaluation and treatment of both digestive and liver diseases. Today, its physicians see patients in more than 40 locations conveniently located throughout Metro Atlanta and North Georgia. In addition, the practice operates multiple accredited endoscopy centers where most outpatient procedures are performed. The practice is comprised of a diverse group of physicians who speak various languages and has more female gastroenterologists than any other group in the country.
The Kidney Care Center of Georgia
is solely dedicated to providing excellent care in all aspects of kidney disease. Its highly experienced professionals work with patients to help achieve optimal kidney health. Kidney Care Center of Georgia treats a vast pathology, including anemia management, chronic kidney disease and education, lab services and dialysis care. Office locations include Gainesville, Cumming, Demorest/Habersham, Johns Creek and Braselton.
Longstreet Clinic Cancer Center
facilities include an onsite lab, pharmacy and state-of-the-art chemotherapy infusion suite, as well offering close proximity to surgical consultations, radiation oncology, interventional radiology, physical medicine and rehabilitation and The Brest Center. Longstreet Cancer Center is one of only two practices in Georgia to be certified by the American Society of Clinical Oncology's Quality Practice Initiative (QOPI).
Georgia Heart Institute is the most forward-thinking heart and vascular program in the state and includes one of the largest cardiology practices in the region, including more than 80 practitioners seeing patients at more than a dozen locations. With a multi-disciplinary team of experts treating nearly every type of heart and vascular disease and participating in leading national research, we're providing advanced care that ensures lasting heart health for generations.
The experts of Georgia Heart Institute also form the core of the cardiac care team at Northeast Georgia Medical Center's four hospitals in Gainesville, Braselton, Winder and Dahlonega. It's all part of Northeast Georgia Health System, a non-profit which serves more than 1 million people across the region.
Medical Plaza 1
is a medical office building that's home to an urgent care center, imaging center, outpatient rehabilitation center, full service lab and many private physician practices representing more than 20 medical specialties.
Northeast Georgia Physicians Group (NGPG)
is one of the largest multi-specialty groups in North Georgia bringing together more than 300 talented physicians, physician assistants and nurse practitioners, along with other clinical staff, at more than 55 locations. The board certified physicians at
NGPG's Dahlonega Internal Medicine
location diagnose and treat multiple medical problems ranging from sore throat to heart disease. Services include:
Routine and preventive health evaluations
Immunizations
EKG
Physicals
Laboratory services
Medical Park 1
 in Gainesville is a medical office building that's home to imaging, neurology, urology, OB/GYN, neurosurgery, infectious disease as well as additional practices and specialties. Board certified physicians at Medical Park 1 Internal Medicine diagnose and treat patients who need care from preventive health service to complex medical conditions like cancer, diabetes and heart disease.  Residents will train at
NGPG Neurology
and
NGPG Medical Park 1
during their residency.
Northeast Georgia Physicians Group (NGPG) Neurology
 offers treatment for a wide range of neurological conditions such as epilepsy, stroke, migraine headaches, movement disorders, neuropathy, dementia, Multiple Sclerosis, and sleep disorders. NGPG Neurology
also performs diagnostic tests (EMG, EEG) at Northeast Georgia Medical Center and Botox treatment for headache and muscle spasms.
Northeast Georgia Health System has two long term care facilities, New Horizons Limestone and New Horizons Lanier Park. Northeast Georgia Health System's transitional care unit is a sub-acute unit located at New Horizons Limestone. This unit is designed to offer medical and rehabilitation services to patients who no longer need the acute nursing care offered on other hospital units but who are not yet ready to be discharged to their homes or to a nursing care facility.
Longstreet Clinic
 is a fully-integrated multi-specialty medical group owned and managed by physicians. The clinic employs 200 providers in 19 specialties in 11 locations across Northeast Georgia.
Good News Clinics (GNC) is a Christian nonprofit providing free medical and dental care to uninsured residents of Hall County who cannot afford to purchase health care services. Forty-six primary care physicians, 9 mid-level providers and 43 dentists volunteer to treat patients at GNC. In addition, over 340 specialist physicians volunteer to treat GNC patients through our Health Access referral program.
NGPG Internal Medicine
physicians have special training focusing on the prevention, diagnosis and treatment of adult diseases. You may hear internal medicine physicians referred to as "general internists," "internists" and "doctors of internal medicine." NGPG Rotation Locations:
Dahlonega
Toccoa
Braselton
Gainesville
Gastroenterology Associates of Gainesville, P.C.
is an independent specialty practice, dedicated to providing the highest quality of gastroenterology services. Our physicians are board-certified in gastroenterology and offer special expertise in treating digestive issues and diseases. At Gastroenterology Associates of Gainesville, P.C. we understand the sensitive nature of gastrointestinal illnesses. We strive to provide our services in an environment which stresses patient privacy, confidentiality, and satisfaction. With us you will receive the highest level of care, from a team of physicians who have been serving the Northeast Georgia area for more than 35 years. We believe experience and expertise matter.
Whether it is treating severe COPD and emphysema, utilizing the newest biological medications to manage difficult to control asthma, applying state of the art care for pulmonary fibrosis and pulmonary hypertension, mastering cutting edge technology such as navigational bronchoscopy for identifying lung cancer at its earliest stage, diagnosing and treating sleep apnea along with providing and managing CPAP equipment, or being a part of the newest clinical research studies,
Pulmonary and Sleep Specialists of Northeast Georgia
are proud to be the practice that provides it all.