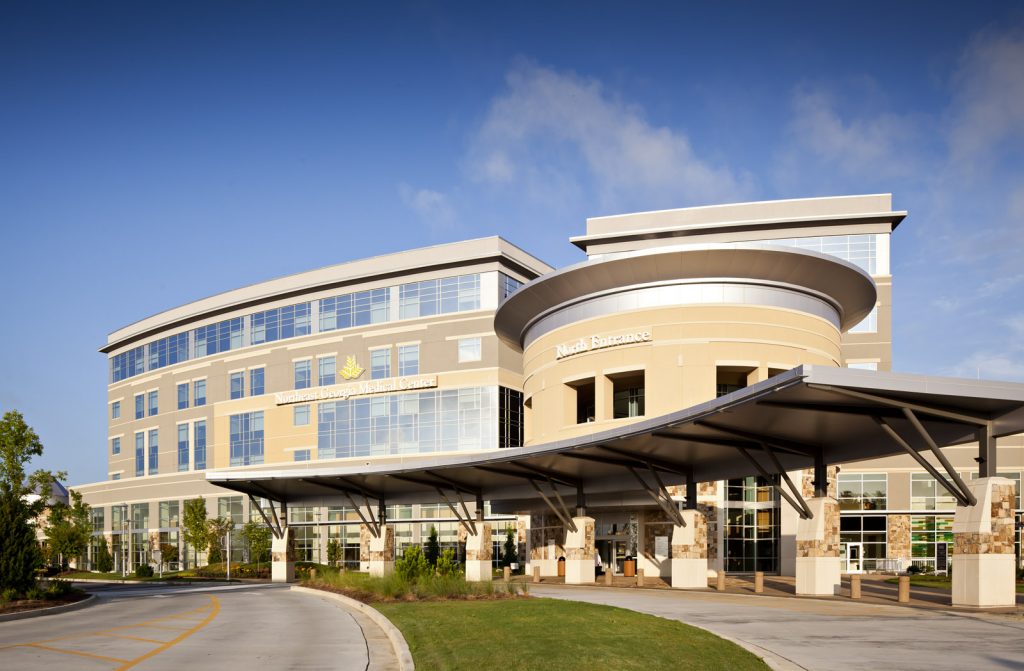 Northeast Georgia Medical Center (NGMC) is a 557-bed acute care hospital in Gainesville, Georgia, and serves as the major participating site for the residency program. NGMC serves as a regional tertiary referral center with level II trauma designation, serving over 1,400 trauma patients per year.
Since 1951, Northeast Georgia Medical Center (NGMC) has been on a mission of improving the health of our community in all we do. With hospitals located in Gainesville, Braselton, Winder and Dahlonega, the four NGMC campuses have a total of more than 750 beds and more than 1,200 medical staff members representing more than 60 specialties. NGMC is part of Northeast Georgia Health System, a non-profit that cares for more than one million people across more than 19 counties.
Medical Library available to residents and faculty with study areas, computer workspace and resources available 24/7.
Resident work areas with computer access work stations 24/7 available in the North Patient Tower and the Trauma/Acute Care Surgery Clinic.
Simulation laboratory available 24/7 in GME area.
As the state's sixth-largest physician group, NGPG bring together hundreds of talented physicians, physician assistants, nurse practitioners, midwives and other clinical staff in locations extending across North Georgia.
Our practice is patient-centered and collaborative, ensuring that your care is coordinated with other physicians and advance practice providers offering expertise and advanced services in a wide range of specialties at NGPG.
Northeast Georgia Physicians Group (NGPG) Psychiatry
offers comprehensive evaluations for a variety of psychiatric conditions and other behavioral health related issues including:
Anxiety disorders
Bipolar disorders
Depression
Interpersonal problems
Medication monitoring
Psychotic disorders
Laurelwood is part of Northeast Georgia Medical Center and is conveniently located on the Medical Center's campus in Gainesville.
A 54-bed facility, Laurelwood is a private, not-for-profit, inpatient behavioral health facility dedicated to the stabilization and treatment of individuals with mental illness and/or substance abuse.
A recognized leader in the region, Laurelwood is committed to improving the health of our community in all that we do. Professional, competent and compassionate staff is what separates Laurelwood from other treatment facilities. Our team is attentive to the individual needs of each patient. We are dedicated to providing high quality services that promote a positive therapeutic treatment experience.
Avita Community Partners
is a resource for individuals and families in northeast Georgia experiencing the disabling effects of mental illness, developmental disabilities, and addictive diseases. Our goal is to assist in the development of safe, stable, meaningful lives for all.
Sinai Wellness Center
is a comprehensive residential treatment center for drug and alcohol addiction, as well as dual diagnosis. Mt. Sinai utilizes evidence-based psychotherapeutic interventions along with medication-assisted treatment in an integrated fashion to address the psychological and biological etiologies for addictive disorders. Mt. Sinai also treats patients struggling with pain using drug-free pain management services such as:
Evidence-based CBT developed specifically for patients with substance use disorders and chronic pain
Physical exercise under professional supervision
Acupuncture
Massage therapy
Aqua therapy
Yoga and Tai chi
Chiropractic
Peachford Hospital
offers a nurturing environment for adults, seniors, teens and children looking for hope and healing from emotional, behavioral, psychiatric and addiction issues. Our treatment team works together with patients and their family members to create individualized treatment plans that promote self-reliance, confidence, recovery and life-long health.